Regular price
Sale price
$15.00 USD
Unit price
per
Sale
Sold out
Introducing Ay Chico Aromatic Craft Bitters by The Bitter Gay Co., a tantalizing infusion of vibrant flavors inspired by the lively spirit of Miami and the exotic allure of the Caribbean. Elevate your cocktails with a burst of tropical paradise, meticulously crafted to deliver an unparalleled sensory experience.
Ay Chico Aromatic Craft Bitters by The Bitter Gay Co. are meticulously crafted with a commitment to quality, ensuring each bottle embodies the essence of the Miami and Caribbean cultures that inspired them. Elevate your mixology game with these exceptional bitters, and let your creativity flourish as you craft unforgettable, flavor-packed libations. Whether you're a seasoned bartender or a passionate home mixologist, Ay Chico Bitters are the secret ingredient you need to take your cocktails to the next level. Unleash the vibrant spirit of the tropics in every sip.
Ingredients
Alcohol, Water, Bitter Roots, Hibiscus, Cinnamon, Allspice, Star Anise, Oak, Vanilla, Orange
Application
Best for cocktails made with, Whiskey, Rum, Scotch, Tequila or any other barrel aged liquor
4oz / 38% ABV 

**Starting August 25th all Bitters and Tinctures will come with dropper cap for a more Eco Friendly bottle. See following picture**
Share
View full details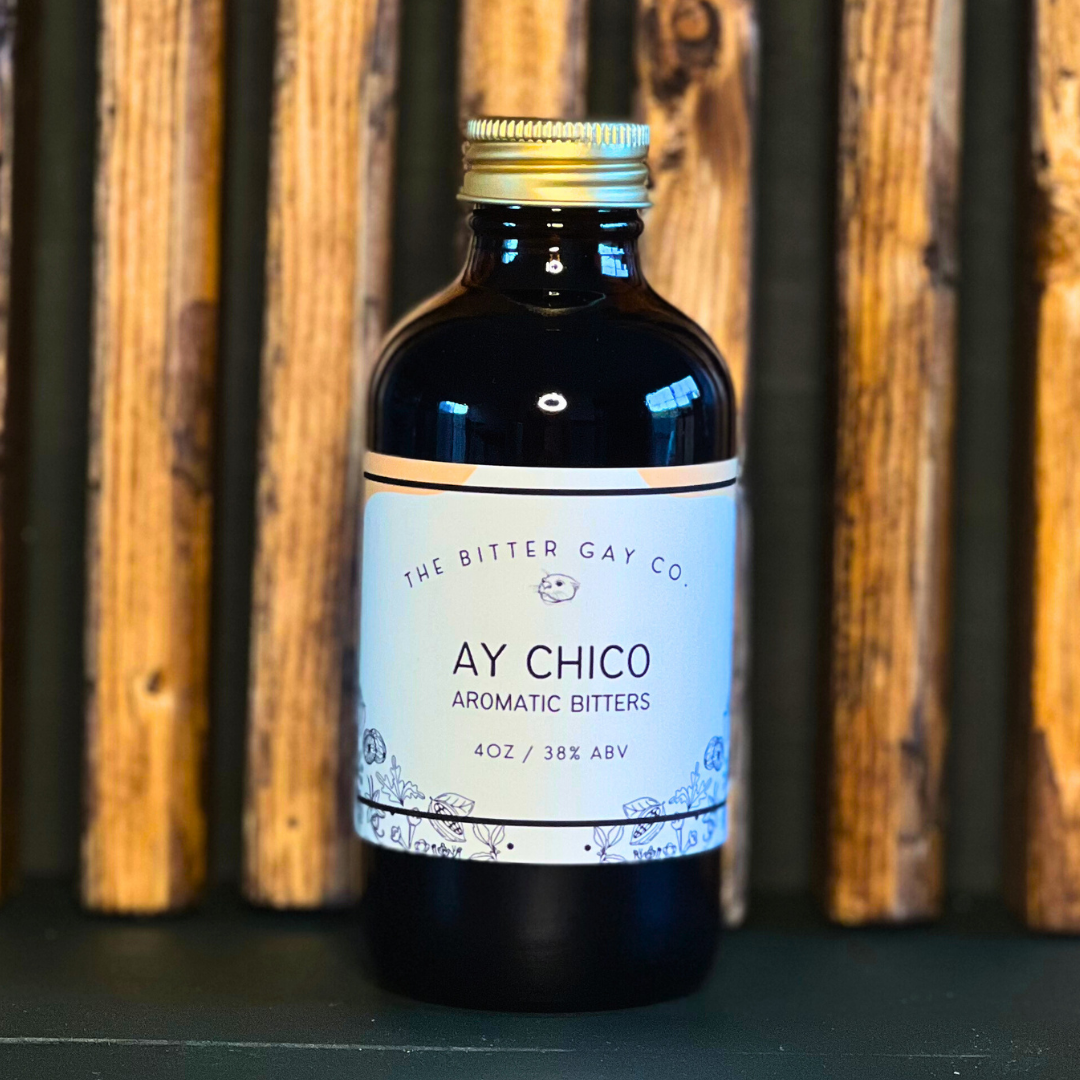 Amazing product
I am blowing through it bottle by bottle, highly recommend
The Bitters that Every Bar Needs!
Our company supports small businesses as much as possible. From local butchers, to farmers markets, and everything in between. The Bitter Gay Co. has always been a pleasure to work with as a vendor. Quick, efficient, knowledgeable around our businesses needs for the cocktails we offer at our various restaurant, and patient with our many questions. You won't be sorry for ditching your old bitters and making the change to one of the many The Bitter Gay Co. offers!
The best bitters I've used for cocktails
They are requested, by name, at my restaurant
Kevin has created an amazing bitter line to compliment many cocktails. His creative mind, attention to detail, and passion for the mixology industry is demonstrated in his creations. Unique and wonderful product.
As Good As Any Of The Top Rated
These are delicious and impactful in whatever you apply them on! I look forward to trying them in various other drinks! I hope the price doesn't shoot up to the other aforementioned bitters. These are a great value!